10 Reasons to Visit Melbourne, Australia
By Marcia Frost

(Previously published in Yahoo! Travel)
<![if !vml]>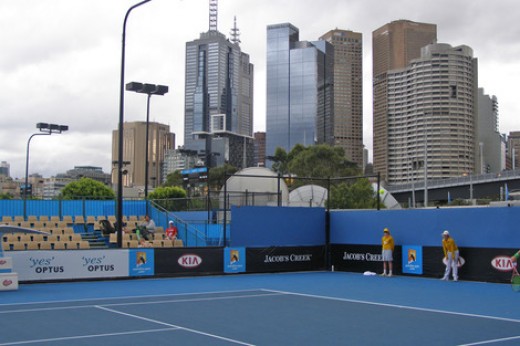 <![endif]>

The Australian Open takes place in Melbourne every January

1. The Australian Open
Every January, the world watches Melbourne, as the first Grand Slam event of the tennis year is held in Australia. With only four majors on the calendar for menís womenís tennis, this tournament marks the start of the sportís year. The city goes all out for the event, with giant television screens in Federation Square and banners everywhere. The grounds of Melbourne Park are alive with spectators and many players say the Australian Open is their favorite.




2. Neighborhoods
The city of Melbourne is divided into many diverse neighborhoods where you can find cultural differences in the buildings, shopping and especially the food. Take a walk to explore Chinatown, Greek Corner, Vietnamese Section, Little Italy, Spanish Corner and Little Saigon. Skip the full restaurant meals one day and enjoy sampling. Since this city is so easy to get around, you can sample many different ethnic foods in a short amount of time.

3. Museums and Attractions
You wonít find a shortage of things to do in Melbourne no matter what you are looking for. Within the city will find the Australian Centre for the Moving Image, Royal Botanic Gardens and the National Gallery of Victoria Everyone in the family will love the Melbourne Aquarium, which has won awards for its exploration of ocean life, and the Melbourne Zoo, which has over 300 species on hand, many native to Australia.

<![if !vml]>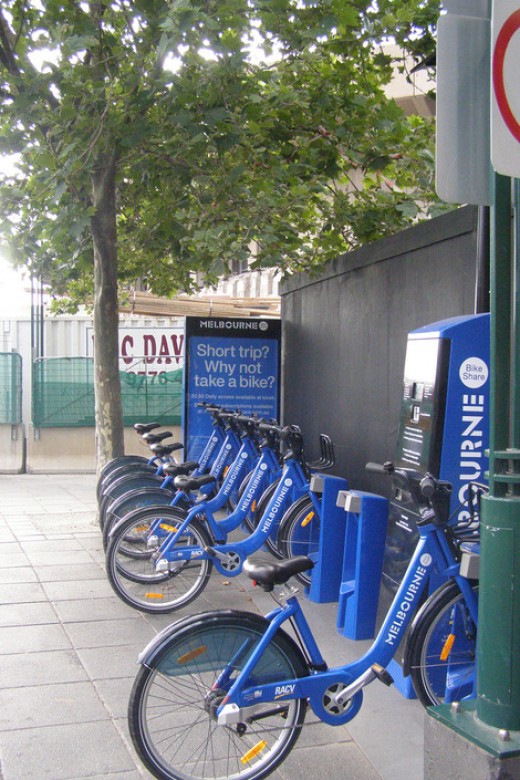 <![endif]>
Bike stands in Melbourne
4. Outdoor Activities
Melbourne natives have no problem staying fit. Enjoy the parks and riverfront, where you can walk, jog, ride bikes or go kayaking. You can go fishing right on the bay. If you like to golf, Melbourne has four of the top 10 golf courses in Australia. For something more adventurous, you can hope on a hot air balloon or take a helicopter ride and see how low level military handles maneuvers.

5. Shopping
You will find an abundance of shopping in Melbourne whether you are looking for local art or couture dresses. Check out Swanks, also referred to as the Swedish Fashion Embassy. Visit De Mille Decorative & Fine Arts, where you can find an assortment of vintage clothing, memorabilia and home furnishing. If youíd like to make sure you get everything you need, try one of the shopping tours.

6. Nightlife
After you finish dinner at one of Melbourneís great restaurants, you will still find plenty to do in this city. The Crown Casino is Australia's largest gaming facility. The live music scene is big here and you can find well-known and independent acts at clubs, pubs and even warehouses (check local papers for details). Dance and comedy clubs are located throughout the city, as well as wine bars and cinemas.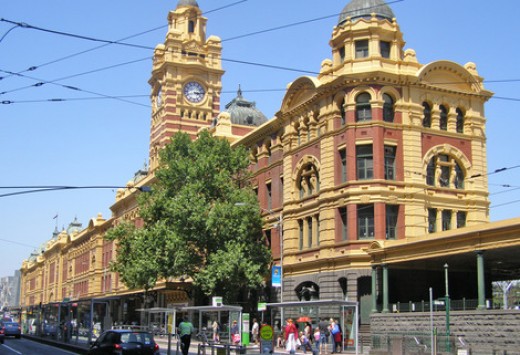 7. Accommodations
The accommodations available in Melbourne are as diverse as the communities. The Langham has been recognized as the top hotel in Australia in Travel & Leisure and this luxurious property deserves that honor. If youíd like something more apartment like in a mid-range price, check out the Oaks, which have apartments available in three easy to get to locations. Students and those on a low budget can find a selection of hostels downtown and throughout the city.
8. Transportation
Melbourne Airport has daily flights from major cities throughout the world in addition to flights to other Australia cities such as Sydney and Brisbane. From the airport take a taxi or the Sky Bus to downtown. Once you are in downtown Melbourne you can walk almost anywhere. Buses and trains are available to take you everywhere and the City Circle Tram can take you around the tourist attractions in the city free of charge.
9. Weather
Summer comes in Australia around the time the United States is in the middle of winter (December-February). It can get very hot at that time, but itís actually pretty nice most of the year. June, July and August are typically the coolest months, with temperatures dipping into the 40s at night. Itís very rare to even see a glimpse of snow in Melbourne, though you will see rain in the winter months.
10. Location
Melbourne offers a unique combination of a bustling city with a taste of the casual at atmosphere of the suburbs thanks to the waterways and greenery. Itís a great place to start on a first trip to Australia. The city is also centrally located to some great day trips in the area, such as Yarra Valley, Adelaide, Great Ocean Rod and Phillip Island. Many top cruise lines use Port Melbourne as a starting point.