Prosecco Wine is Italy's Sparkler
An Inexpensive Option Instead of Champagne
By Marcia Frost

(Previously published in Yahoo! Travel)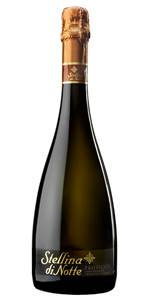 Prosecco is the Italian answer to sparkling wine since the term "champagne" can only be used if it's made in that region of France, but just because it isn't called champagne doesn't mean it's not good - especially since its price point is so much less than the expensive bubbly.
Prosecco is made from grapes of the same name, which are grown in the Veneto region of Italy. It has always been extremely popular in Italian cities like Venice even though it tends to be a bit drier than many other sparkling wines. In Italy, you can even buy prosecco in a can, the way you would beer or soda in the United States.
Like champagne, makers of prosecco are also proud of its heritage. As of the 2009 vintage, only beverages made from grapes grown in this specific region may be called Prosecco. The wine must contain at least 85% of this grape, though it may also include bianchetta, verdiso and/or perera grapes.
Italians have been enjoying this wine for years, but it's become more popular to the rest of the world in more recent years. This is especially true in the United States, where everyone wants a sparkling wine for a New Year's, graduation, wedding or birthday party toast.
The difference between prosecco and cava (a Spanish sparkling wine) or champagne is clear beyond the regions they are grown in. Most proseccos are lighter, sweeter and have a bit less fizz since they are made with the shorter Charmat method. This puts the wine through a second fermentation in tanks instead of bottles, thereby giving the wine a stronger fruit flavor than champagne.
Prosecco is an inexpensive sparkling wine. Most bottles sell for under $20. Diageo Chateau & Estate Wines, which produces mostly of its wines in Napa, is now producing prosecco under the Stellina di Notte label. This wine is especially smooth and not at all dry with a price of only around $10. Other popular proseccos include the Nino Franco Rustico, Canella Prosecco di Conegliano and the Zardetto Prosecco Brut.
You don't have to drink prosecco straight either. It is often used to make the Bellini, a popular Sunday Brunch or warm weather drink which is simply a mix of sparkling wine and peach puree. Prosecco's low alcohol content (around 12%) makes it a popular and refreshing summer drink on its own or in a mixed cocktail.