, both healthy recipes and comfort foods.">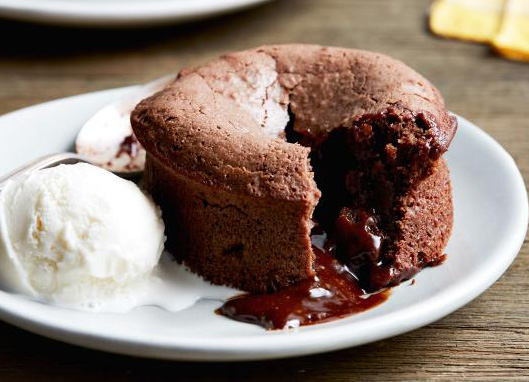 Recipes by Marcia Frost
Molten Lava Cake for One
One of my favorite things to order for dessert in a restaurant is Molten Lava Cake. I love chocolate and it's the ultimate chocolate dessert. I've never made it before, but I was really craving some deep dark chocolate so I searched for a recipe. Of course, I had to do my own little tweaks. I'm sure you'll find the finished product to be delicous. Add/remove sugar to your own desire. I prefer the chocolate without sweetness.


INGREDIENTS
1/3 cup semi-sweet chocolate chips
1 tablespoon butter
1 tablespoon coconut oil
1 teaspoon sugar
1 egg, beaten
1 tablespoon flour
(See below for complete directions)
Preheat oven to 400F.
Melt chocolate chips and butter in microwave for 30 seconds, until almost melted.
Stir in coconut oil until chocolate is fully melted.
With whisk, in vanilla and sugar.
Slowly add egg, beating so egg does not cook..
Stir in flour.
Spray ramekin with cooking spray.

Bake for 10 minutes. (Center will still look soft.)
Use a knife to gently release the cake from rim.
Put plate on top of ramekin and flip over.
Serve with powdereed sugar, ice cream, or whipped cream.
Return to index of Marcia Frost's recipes