These cookies take advantage of some of the healthy products from Carrington Farms
to add more nutrition and less fat. You also get the extra nutty flavor with their Conconut Protein Blend and Coconut Oil Cooking Spray. For a gluten-free cookie, just substitute gluten-free oats. You can make them vegan by substituing the egg for a flax seed egg, and the Ghee for pumpkin or applesauce.
You can also dress up these cookies with whatever you want: chocolate chips, nuts, raisins, cranberries -- or all of it!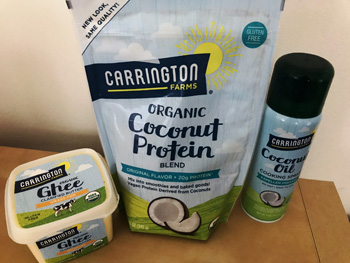 INGREDIENTS
1/4 cup Carrington Farms

1 teaspoon baking soda
1/4 teaspoon salt
1/2 cup Carrington Farms USDA Organic Grass Fed Ghee

1/4 cup brown sugar
1 egg
1 teaspoon vanilla
1/4 cup semi-sweet chocolate chips*
*Or any combination of chips, nuts, and dried fruit
(See below for complete directions)
Preheat oven to 350 degrees.
Put one cup of the oatmeal into a food processor and grind until the consistency of flour.
Combine the ground oatmeal and the oats, along with the protein powder, baking soda, and salt. Set aside.
Using an electric mixer, cream the ghee and brown sugar.
Beat in the egg and vanilla.
Add in the dry ingredients
Stir in the chocolate chips.

Spray a cookie sheet with Carrington Farms Coconut Oil Cooking Spray.
Spoon or scoop cookies onto cookie sheet. Leave some room between them, but they do not expand very much.
Flatten cookies with a fork or spatula.
Bake for 8-10 minutes. The bottom and edges should be slightly brown.
Cool and serve cookies.